"Ultimately, my efforts are meaningless if the stars are not aligned." – Sima Taparia from Mumbai. Is it just me, or do you think this could be a reply to almost every work email? The new show on Netflix, Indian Matchmaking, has created a massive buzz in the country. Many cannot seem to decide if the show is cringe-worthy 101 and regressive, or realistic and honest. This 8-part docuseries features Sima Taparia a.k.a. Sima mami from Mumbai as she tries to find suitable partners for her uber-rich clients in India and the US. 
The misogyny, casteism, sexism, and colourism of our society exhibited on the show has caused a great deal of anger but also motivated others to introspect. Sima aunty's occasional "parents know best and must guide their children", "she is stubborn and not stable", "compromise", "adjust", or "be flexible" has led to Netizens calling her out on social media.
Before we move on to the more serious stuff, here's a meme for you to enjoy.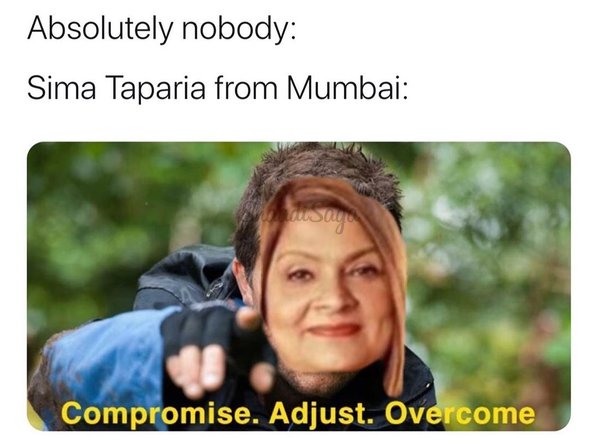 Personally, I never really understood the craze for big fat weddings in India. I think Indians spend millions on weddings to appease society. What society thinks of us has always driven our thinking. To make it worse, social media played a significant role in increasing our worldly proclivities. Even our love is a slave to virtual reality.
Time for Some Data
Matrimony.com conducted a survey in 2018 called 'The Big Fat Indian Wedding Market Survey' to show how young couples plan their weddings. Out of the 9246 respondents in India, 20.6% of females and 11.2% of males were ready to devote Rs.10 lakh-Rs.20 lakh. 6.1% of female respondents said they were willing to spend Rs.20 lakh to Rs.40 lakh at the wedding.
The Wedding Industry in its Entirety – Cost Analysis
To break down the expense of Indian weddings, let's go over the wedding budget, the most critical factor. Nearly every Indian wedding comes in under three groups:
Lavish weddings: A large-scale budget for Indian weddings will cost Rs.50-80 lakh and can easily go beyond that. Look at the approximate price list below:
Venue: Rs.4 lakh

Photographer and videographer: Rs.3 lakh

Catering: Rs.20 lakh

Bride and groom's attire: Rs.8 lakh

Invitations: Rs.2 lakh

Makeup artist: Rs.5 lakh

DJ and tent house: Rs.5 lakh

Transportation: Rs.3 lakh
If you hire a wedding planner, then he/she will charge you around Rs.5 lakh separately. Yes, that is why it's called a BIG FAT wedding!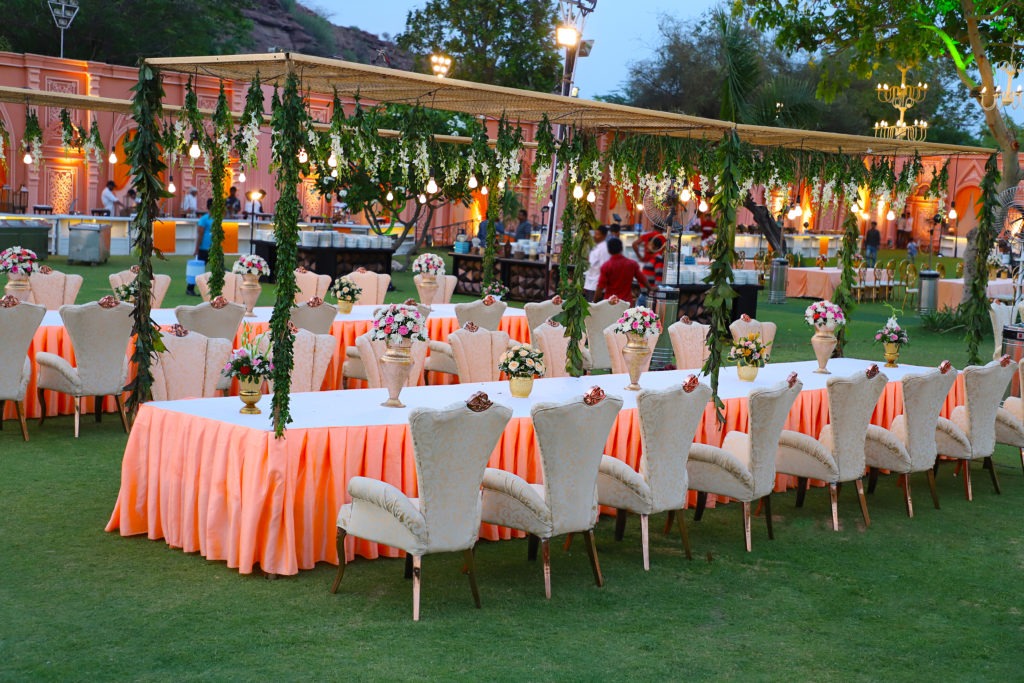 Medium-scale weddings:  The most common wedding style, the all-in-one package, is for Indians of the middle and upper-middle class. On your big day, you'll mostly spend Rs.20-30 lakh. Here is an average overview of costs for various vendor services:
Venue: Rs.1.5 lakh

Photographer and videographer: Rs.1 lakh

Catering: Rs.10 lakh

Bride and groom's attire: Rs.50,000 to Rs.1 lakh

Invitations: Rs.1 lakh

Makeup artist: Rs.50,000

DJ and tent house: Rs.3 lakh

Transportation: Rs.1 lakh
If you hire a wedding planner, he/she will charge you nearly Rs.1 lakh separately.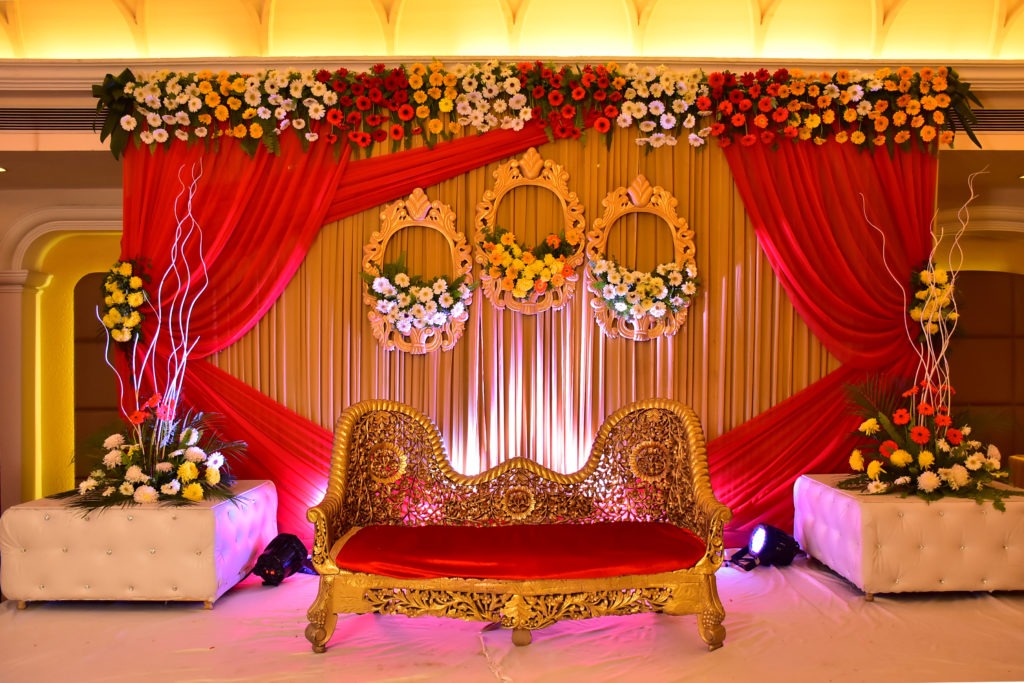 Budget weddings (my favourite): This wedding bundle is for Indians falling into the lower-middle-income class category. The entire wedding will cost about Rs.10 lakh.
Venue: Rs.50,000

Photographer and videographer: Rs.25,000

Catering: Rs.2 lakh

Bride and groom's attire: Rs.45,000

Invitations: Rs.25,000

Makeup artist: Rs.20,000

DJ and tent house: Rs.25,000

Transportation: Rs.25,000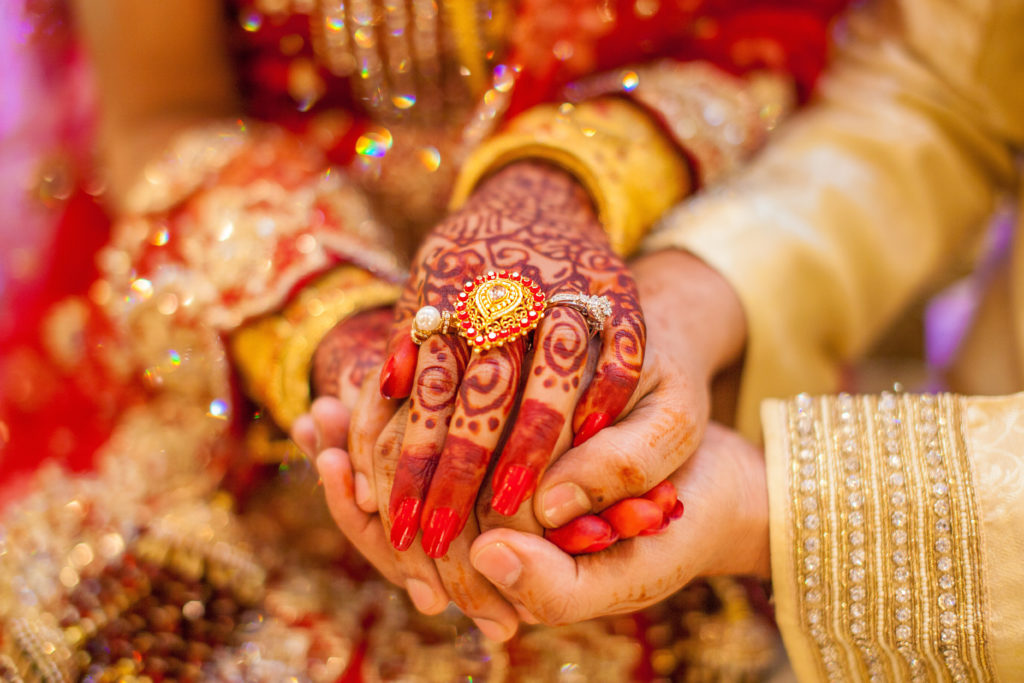 Destination Weddings and Gourmet Food
The cost of a destination wedding can vary based on individual preferences, season, and the choice of destination. The top three preferred wedding destinations are Rajasthan, Goa, and Uttarakhand.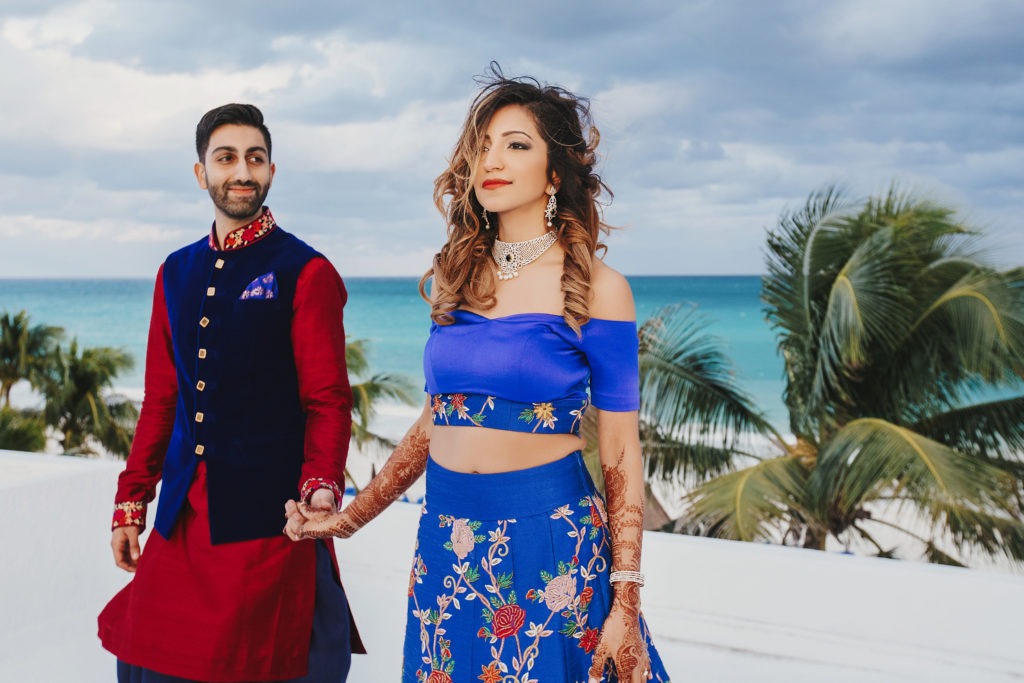 Venue
On average, most decent wedding venues charge Rs.3,000-5,000 per person per night for the stay, food, and basic decoration. Please note that these figures do not refer to royal wedding venues. Such rates are subject to a minimum fixed number of guests, which would translate to Rs.1.5 lakh-Rs.2.5 lakh, a one-day booking for 50 guests.
Decoration
Mandap, lighting, centrepieces, drapes, benches, tables, floral arrangements, and stage are all part of the setup and decor. Though the sky is the limit when it comes to decoration, it typically costs about Rs.1 lakh-3 lakh a day. But as discussed above, this is one aspect of destination weddings where if you choose your venue wisely, you can save a great deal.
Also Read: COVID-19 Spikes Gaming Addiction Across the World
Photography
A good wedding photographer usually charges Rs.1.5 lakh per day to Rs.2 lakh along with their travel and accommodation costs. Consider opting for local photographers as this will result in significant savings as photographers in smaller cities usually charge much less than the pros in metropolitans. You might just uncover a hidden talent!
Transportation
Travel costs within the city, such as Jaipur, Udaipur, Goa, and Kerala are moderate. While the guests usually pay for themselves, arranging for a pick-up and drop from the train station or airport is often a pleasant gesture. A private taxi costs between Rs.2,000 and Rs.3,000 per day (10-12 hours).
Miscellaneous Expenses
Other miscellaneous costs, such as Mehndi artists, DJ, Pandit Ji, and more, should also be taken into account while planning the cost of a wedding destination in India.
How Much Do Matchmakers like Seema Taparia Earn?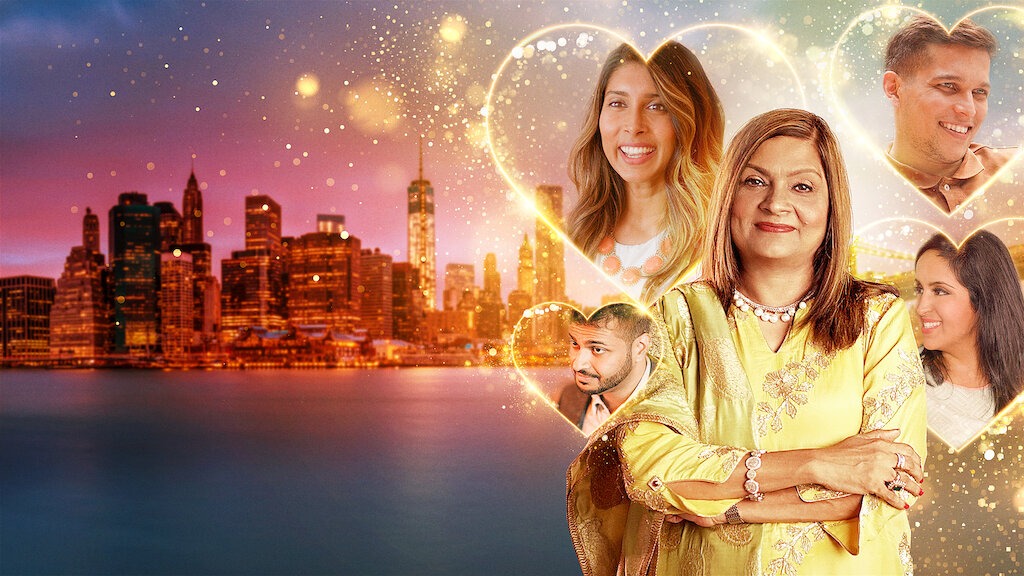 Families in India have always relied on referrals. The elders of the family would fan out into their social circle – the 'real' one, not the digital one. If required, they would employ the services of matchmakers to find the right match according to the preferences of the prospective bride or groom. 
The online matchmaking industry came into existence in India in 2001 with the launch of bharatmatrimony.com. After almost two decades, the most significant benefit of resorting to online matchmaking is the exponential increase in the number of choices. The bride and groom have greater control over the final decision and outcome.
As per a Ken Research Report of 2016, the revenues of the online matchmaking industry in India is set to touch Rs.20.6 billion by the end of 2020.
According to a Republic report, Sima Taparia from Mumbai reportedly earns somewhere around Rs.1.5 lakh to Rs.4 lakh per client. She has helped 135 families until now. Do the math!
A Zoom Call Wedding? What Sorcery is This?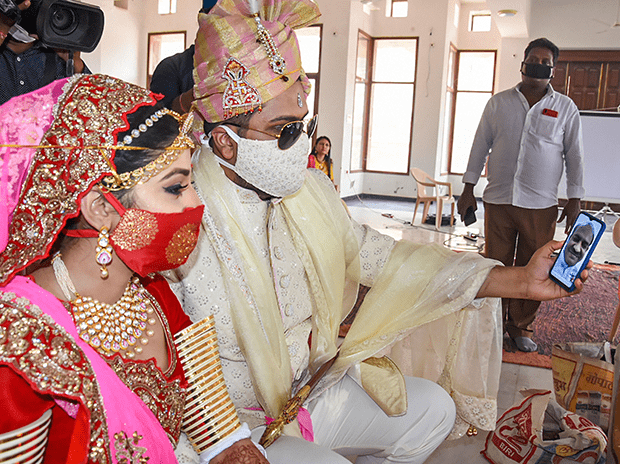 Though Covid-19 is known to have taken a major toll on various industries, wedding industry remains one of the most affected of them. That is valid not just for the country but for the entire world.
Vikram Mehta, the founder of Mpire Events, said that precautionary measures such as temperature checks for all guests, details of their past travel, daily sanitisation of the rooms and property, filling of forms for guests with illness details if any, gloves and masks at the hospitality desk and at any event are the only way forward.
Several couples have had their wedding plans cancelled or postponed during the lockdown. As most of the weddings were scheduled between March and November, the guests were supposed to come from various parts of the globe. Due to the current situation now, the plan needs to be on hold.
A virtual wedding may be a temporary substitute for the actual event, which is a perfect alternative to postponing or cancelling the wedding. It can be more helpful if you have 50 guests around you, and the majority of your guests are available via a virtual platform to shower their blessings.
Many virtual wedding sites are trending such as Zoom, Google Meet, Insta Live, and Facebook Live.
Google Meet has become the most popular virtual wedding device. It's also easier to invite guests using these methods than the conventional one because you can have up to 250 guests in one meeting.
As the industry continues to evolve, it will enter a whole new period of professional development and expansion. The Indian wedding is essentially a bread-and-butter business. Come rain or shine, weddings are going to happen and remain a highlight of the lives of the families involved forever.
For any clarifications/feedback on the topic, please contact the writer at sujaini.biswas@cleartax.in
An Editor by day and a sloth by night…I would love to eat and sleep throughout the day if given a chance…I enjoy reading and love my job and my team at ClearTax.